Starting at 6U and going through 18U, the PHHL offers competitive hockey at the developmental and recreational levels in both the fall and spring seasons. 
Designed as a next step to First Goal, Canes Girls Hockey offers on and off-ice development for girls aged 6 through 12 to either supplement the PHHL experience, or bridge the gap between learn to play and PHHL hockey.
Super 8 is a Junior Canes program for 6U and 8U players to supplement the PHHL experience with an additional weekly skills development session and participation in three 8U travel tournaments and/or jamborees throughout the year. This is an open registration, first-come first-serve program.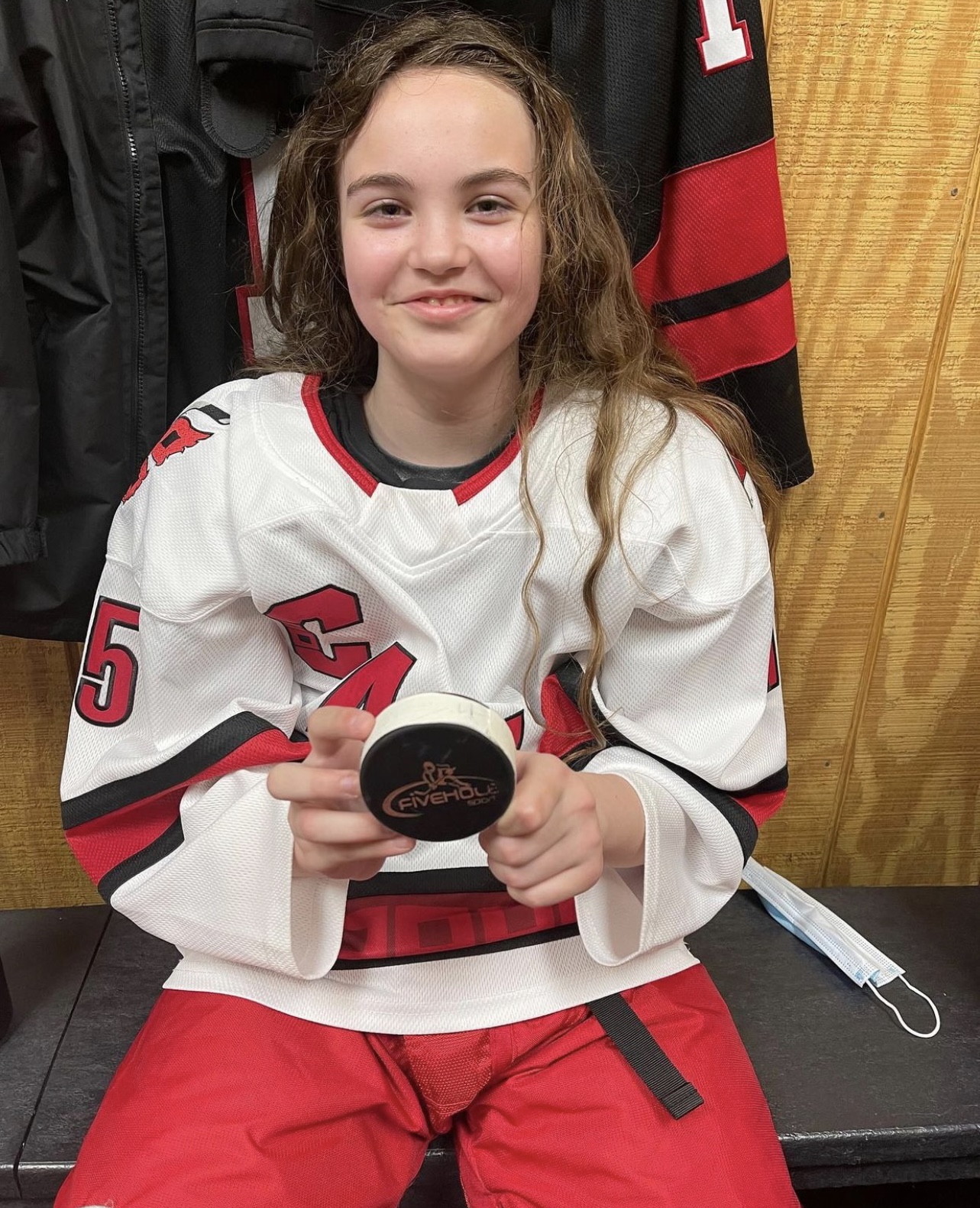 There is nothing quite like the rush of a hockey "first".
Big dreams and lofty goals are born with the thrill from those "firsts", but it's critical to remember that hockey is a marathon, not a sprint.
MYTH: The best players at 9U are the best players at 12U and up
All players develop at different rates, and so much of what separates players at young ages is skating proficiency. Physical size and strength plays a role, but so does instruction.
Too often, young players find early success in recreational hockey and skip over critical foundational development in favor of programs that promise "elite competition" and team success.
As size and strength balances over time, the players who have focused on skating technique and skill acquisition often pass the players who put individual development on the back burner.
---
At 2022-23 Tier 2 tryouts, 36% of Junior Canes A-level players advanced to AA teams (45 of 124) while only 14% (23 of 187) of players coming from other associations were selected for AA rosters.
At Tier 1 AAA tryouts, only 7% (7 of 99) of players from other associations made our AAA teams.
MINOR HOCKEY
Minor hockey traditionally runs through 16U, but USA Hockey does hold both Tier 1 and Tier 2 national championships for 18U as well as Girls 19U.
The "House" designation is for competitive recreational teams that participate in leagues confined by a single association (Ex., Polar). "House Select" are generally tournament teams formed from House programs via tryout or invitation. This level can also be considered Travel B or C.
While Tier 2 is divided into AA, A, B and C level designations based on skill level, there is no external certification process for these designations so teams are often mis-designated. USA Hockey holds national championships at the Tier 2 level, encompassing all levels of designation.
Tier 1 AAA is the highest level of competition in US youth hockey and requires certification from an association's USA Hockey Affiliate to field AAA teams. In North Carolina, Tier 1 AAA begins at 11U. The Junior Canes are the only area association approved to field 11U through 16U AAA teams.
JUNIOR HOCKEY
Juniors develops and showcases players aged 16 to 20. Tier III Juniors is "pay to play" where athletes will pay tuition for participation. Tier II is not play to play, but athletes are responsible for their room and board. Tier I covers the cost of playing as well as room and board. All three tiers allow players to maintain NCAA eligibility, while Major Juniors pays a stipend.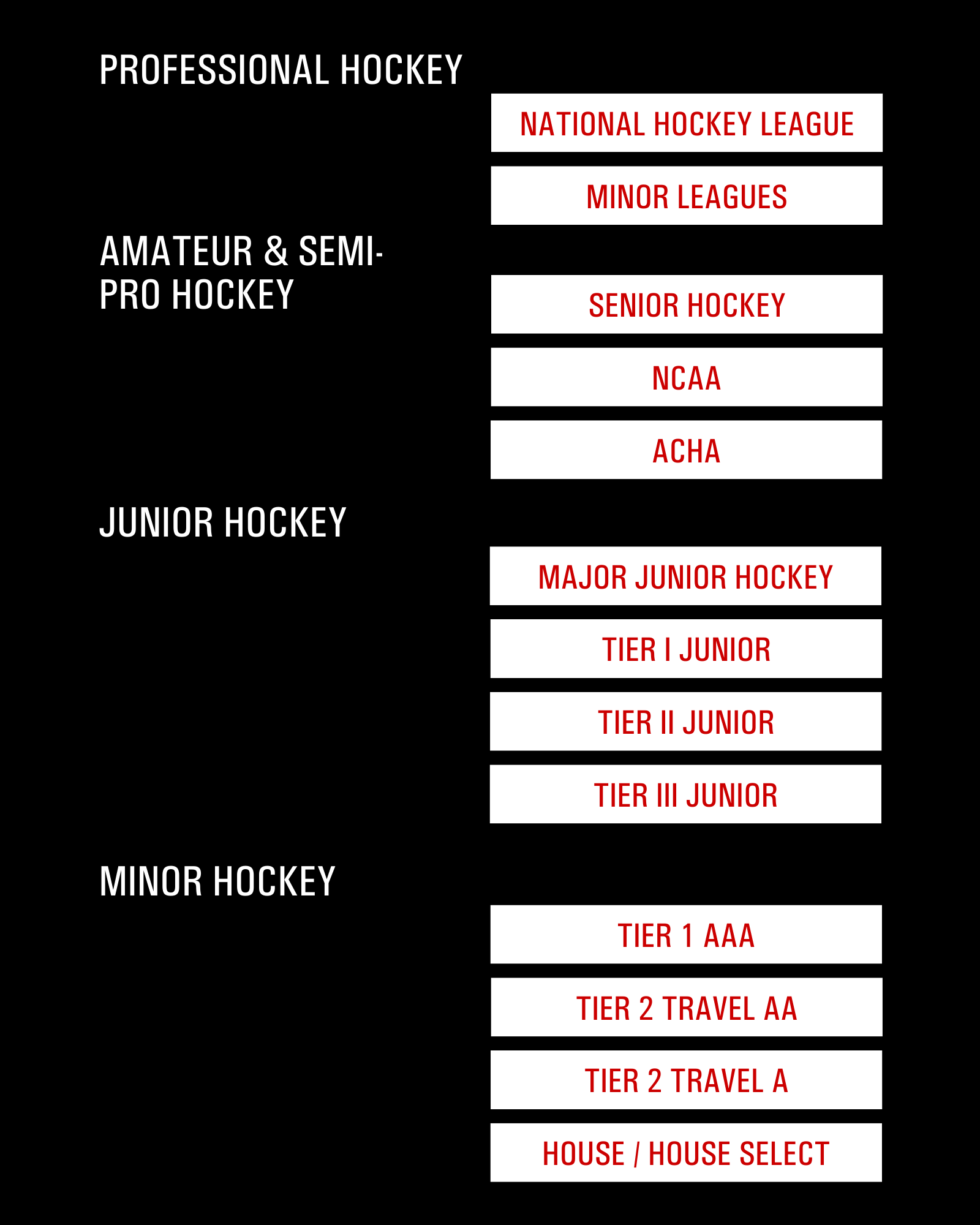 COLLEGIATE HOCKEY
NCAA Hockey is split into Division I, Division II and Division III just like most other collegiate sports. For women's hockey, there are two divisions ... the National Collegiate Division and Division III. In men's hockey, there is only one conference - the Northeast 10 Conference - that offers varsity hockey, and the NCAA does not recognize a DII national champion. There are 59 Division I men's teams split into six conferences (Arizona State and Long Island University are independent), and 84 Division III men's teams split into 9 conferences. There are 41 D1 women's teams and 67 D2 women's teams.
Non-varsity programs are growing in popularity as nearly 500 men's and women's club teams make up the American Collegiate Hockey Association (ACHA). Like the NCAA, the ACHA is split into three Divisions for men and two divisions for women. The ACHA names a national championship in each division.
MYTH: North Carolina doesn't have many options for youth hockey players.
While this might have been true 15 years ago when the Carolina Hurricanes partnered with RYHA to form the Junior Canes, North Carolina youth hockey has reached a point where there is truly something for everyone.
The trick, which is much easier said than done, is helping hockey families understand the best options for what they want out of hockey.
Our leadership team is always available for questions and guidance.